Rob Zombie's Great American Nightmare Official Video.
Here's your first look at
Rob Zombie's Great American Nightmare
the ultimate Halloween music and horror event!!!
Showcasing three terrifying haunted houses; Lords Of Salem In Total Black Out, The Haunted World Of El Supe
rbeasto 3D, and Haunt Of 1,000 Corpses. Each night will also feature concerts from various genres such as Metal, EDM, Pop, Rock and Latin. Along with this the Bloody Boulevard will feature attractions such as a film festival, horror museum, food and beverages and much more!

With only a couple weeks left get ready for the nightmare of your life held every Thursday, Friday, Saturday and Sunday from October 10-November 2 at the FEARplex in Pomona, CA.
The
Great American Nightmare
music lineup is as follows: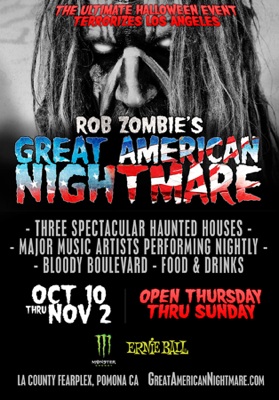 Thursday, October 10:

3OH!3

,

Wallpaper

Friday, October 11:

Blood On The Dance Floor

,

HeavyGrinder

Saturday, October 12:

Kottonmouth Kings

,

Twiztid

,

Blaze Ya Dead Homie

Sunday, October 13:

Ozomatli

, with special guest

Thursday, October 17:

The Used

,

William Control

Friday, October 18:

DJ Bl3nd

,

DirtyLoud

,

One More Time

(Daft Punk Tribute)

Saturday, October 19:

The Vandals

,

TSOL

,

The Dickies

,

Duane Peters

Sunday, October 20:

pro-wrestling sensations

Lucha Libre USA

,

Metalachi

Thursday, October 24:

Emilie Autumn

with special guest

Friday, October 25:

Doctor P

,

Zomboy

,

Terravita

,

Evol Intent

Saturday, October 26:

Motionless In White

,

Butcher Babies

,

Ghost Town

Sunday, October 27:

Reel Big Fish

,

Goldfinger

, with special guest

Thursday, October 31:

Andrew W.K.

,

Mod Sun

,

Beware Of Darkness

Friday, November 1:

MAJOR EDM HEADLINER to be announced on September 25,

Dirtyphonics

,

Fei-Fei

Saturday, November 2:

Rob Zombie

,

Eagles Of Death Metal

,

Powerman 5000

,

45 Grave